IGNOU DACE Admission: DACE Result 2022 is out now, students can check the results at @studentservices.ignou.ac.in/Openmat/DACE2022/daceresult22.asp. Applicants from scheduled castes will be able to receive complimentary tutoring for the civil services examinations from the Indira Gandhi National Open University, or IGNOU. The Dr. Ambedkar Centre of Excellence (DACE) will be established at the institution by the Department of Social Justice and Empowerment of the Indian government. Those who wish to receive advice and direction from the greatest instructors the ministry will employ must take the entrance test.
The application process for IGNOU Free UPSC Coaching has been launched by the administration. The application submission deadline has been made public. Only qualified applicants will be chosen for the programme. Therefore, the candidates must carefully review all the information on IGNOU free coaching 2022, including the eligibility requirements, selection criteria, application process, key dates, and numerous other details. Individuals must then submit an application using the internet portal.
The centre for coaching under the DACE programme would be the Indira Gandhi National Open University. Before June 30, 2022, interested and qualified applicants must submit an online application through the specified site. They will also need to take the entrance test, and only deserving individuals will be chosen to participate in the free UPSC coaching session. Only a few places are available through this campaign. As a result, the application is crucial.
IGNOU DACE Admission Latest Update
IGNOU 2nd merit list of DACE released, check here complete list.
IGNOU DACE Results are out on the official website. Check your scorecard by clicking here.
IGNOU DACE Answer key has been released for the entrance test. Check here
IGNOU DACE Hall Ticket for Entrance Exam has been issued, check the announcement. "Click Here"
Due date for Exam Center allocation has been extended upto July 5th, 2022 to give consent.
IGNOU DACE Admission Entrance Examination is 31 July 2022.
Last date of IGNOU DACE Registration is 30th June 2022.
IGNOU Free UPSC Coaching R

egistration for Entrance Exam was open on 5th June 2022. 
Highlights of IGNOU Free UPSC Coaching
| | |
| --- | --- |
| Name of the Program | IGNOU Free UPSC Coaching |
| Organized By | Indira Gandhi National Open University IGNOU |
| Name of the Centre | Dr. Ambedkar Centre of Excellence |
| Ministry | Ministry of Social Justice and Empowerment |
| Type of Education | Free Coaching |
| Examination | UPSC |
| Year | 2022 |
| Beneficiaries | Scheduled Castes |
| Application Mode | Online |
| Application Commencement | 05 June 2022 |
| IGNOU Free UPSC Coaching Last Date | 30 June 2022 |
| IGNOU UPSC Free Coaching Exam Date 2022 | 31 July 2022 |
इग्नू मुफ्त कोचिंग 2022
इंद्रागाँधी राष्ट्र्रीय मुक्त विश्वविद्यालय (इग्नू) ने इस बर्ष अनुसूचित और अनुसूचित जनजाति के छात्रों को सिबिल सेवा की तैयारी के लिए मुफ्त कोचिंग की शुरुआत की है। यह कोचिंग अभी – अभी स्थापित हुए डॉ अंबेडकर सेंटर ऑफ़ एक्सीलेंस (DACE) के अंतर्गत आयोजित की जाती है। इच्छुक उम्मीदवार जो सिबिल सेवा की कोचिंग करने की इच्छा रखते है वह 30 जून तक आवेदन कर सकते है। 
इस सेंटर की ओर से सिबिल सेवा परीक्षा 2023 के लिए छात्रों को मुफ्त कोचिंग मिले, इस उद्देश्य से ऑल इंडिया प्रवेश परीक्षा आयोजित की थी। चयनित उम्मीदवार को सिविल सेवा प्री और मुख्य परीक्षा की तैयारी मुफ्त में कराई जायेगी। 
कॉमन प्रवेश परीक्षा (CET) के माध्यम से एडमिशन की प्रक्रिया पूरी होगी, इस प्रवेश परीक्षा में 100 बहु वैकल्पिक प्रश्न सामान्य ज्ञान, भाषा का ज्ञान, रीसनिंग और सामान्य एप्टीटुड से जुड़े सबाल पूछे जायेंगे।
What is the objective of this initiative?
The primary goal of the Dr. Ambedkar Center of Excellence, or DACE, is to motivate applicants who fall under the Scheduled Castes categorization. The government will guarantee that these applicants obtain greater possibilities by offering tutoring for civil service tests at both the preparatory and major levels. The candidates will be coached by professors and advisors with extensive industry expertise.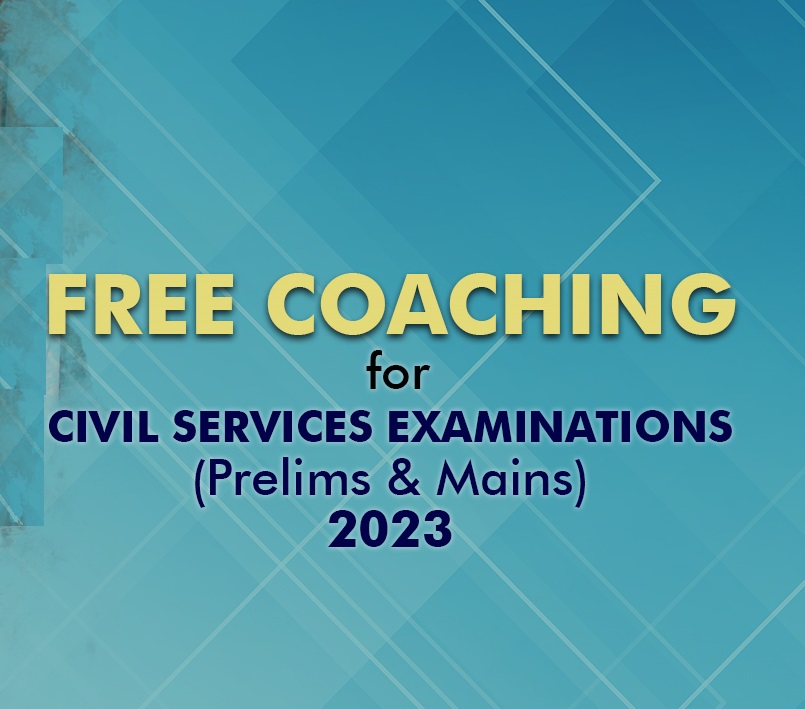 Eligibility Criteria dace.ignouonline.ac.in Admission
Admissions will be done through an All India Entrance Exam which which is conducted by the IGNOU University.
General Knowledge, Language Skills, Reasoning Abilities and General Aptitude are the part of Entrance exam will have 100 objective type questions to test the candidates.
Candidates shall be made on the basis of merit, including the 33% women candidates.
IGNOU UPSC Free Coaching Fees
IGNOU UPSC free Coaching fee is free of cost for civil services Examinations (Prelims and Mains) only for Scheduled Caste (SC) candidates by providing them high quality coaching
IGNOU Free UPSC Coaching Selection Criteria 
IGNOU Free UPSC Coaching Scheme only open for Scheduled Caste students.
Minimum eligibility will be Graduation in any subject. Those who are appearing in the Graduation final year exams are expected to submit pass certificate at the time of commencement of the Coaching Program.
Students must provide their duly attested caste certificates issued by competent authority.
The selected Students can get the coaching facility only once, irrespective of the chances available to him or her.
The candidates should not have received similar benefit from government under any other scheme.
Maximum of 100 candidates shall be selected.
Out of the 100 seats, 33 per cent shall be reserved for women candidates.
IGBOU DACE Contact Details:
Address: DR. ALKA DHAMEJA (PROFESSOR) Programme Coordinator, DACE Faculty of Public Administration School of Social Sciences, IGNOU
Official Website: https://dace.ignouonline.ac.in/
Email: dacesoss@ignou.ac.in