IGNOU Convocation 2024: Each year, IGNOU organizes its convocation on its main campus in Maidan Garhi, Delhi, and also all of its regional centers. Registration for the 37th Convocation has officially begun for those students who have successfully completed their programs at IGNOU. Convocation will start at 10:30 AM, and a live webcast of the Convocation will be available on the IGNOU Online website.
Online registration for the 37th convocation is scheduled for Jan/Feb 2024. The IGNOU Convocation last date is not announced yet for registration.
IGNOU 37th Convocation will take place at both the Main Campus (Maidan Garhi) in New Delhi and the corresponding regional centers all throughout India. Additionally, it will be broadcast for viewing on the official Facebook pages of IGNOU and Gyandarshan.
IGNOU 37th Convocation 2024 Online Registration
As registration for the 37th Convocation of the IGNOU is quite quick, no documents are required. To participate in the next convocation, you must register online. For more information, click on the link below. Students should have their 9 or 10-digit enrollment number given at the time of IGNOU admission.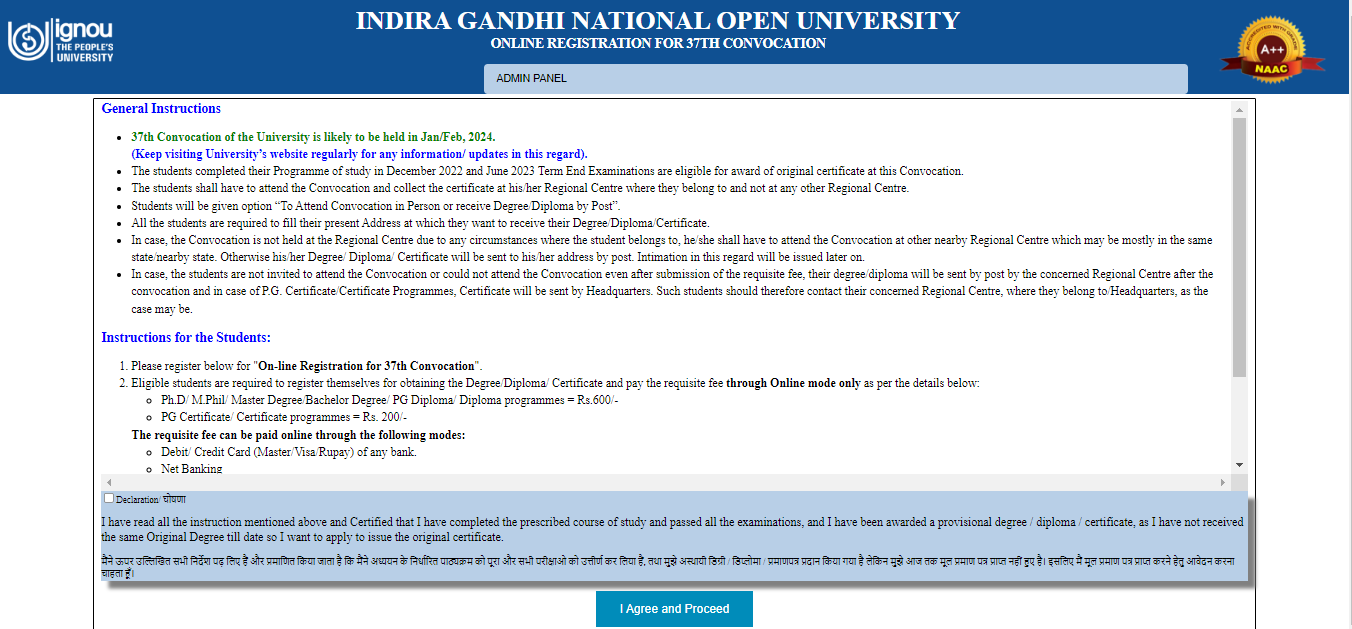 Click for Online Registration of IGNOU 37th Convocation (Open) – Direct Link
Candidates must register online by selecting the "Online Registration" link and pay any applicable fees using one of the available online payment options.
IGNOU Convocation 2024: Details (Venue, Dress Code, Time)
| | |
| --- | --- |
| Events  | Official Dates & Details  |
| Online registration deadline | The date will be announced  |
| Convocation fees for IGNOU | Convocation fee of Rs 600 (per certificate) |
| 37th Convocation date for IGNOU  | Jan/Feb 2024 (Expected) |
| Timing of convocation | 11:00 AM |
| Convocation Venue | Maidan Garhi, New Delhi – 110068 |
| Male candidates' dress code | Indian dresses in white or cream colours |
| Female candidates' dress code | A white or cream-coloured salwar kameez, sari, or salwar kurta would be appropriate. |
IGNOU Convocation Fee 2024
IGNOU 37th Convocation fees for Master's, Bachelor's, PhD, and diploma degrees will remain at Rs 600 per certificate.
Brand Advertisement
PG Certificate and Certificate program students must additionally apply for IGNOU Convocation and pay Rs 200 per certificate to receive their program certificates.
Earlier, Students didn't need to register for IGNOU Convocation or pay any fees if they finished a certificate or postgraduate certificate program. Indira Gandhi National Open University will mail your program certificate to your address without any procedure.
IGNOU 37th Convocation Status
Students can register themselves for the IGNOU 37th convocation @onlineservices.ignou.ac.in/convocation/login.aspx. After registration, students can track their status with the same login details. 
PS: The registration price is Rs. 600 per certificate for MBA (Students registered up to July 2017 batch), MCA, and M.COM students, among others. If a student qualifies for more than one programme module, they must purchase each certificate separately for Rs. 600.
FAQs related to IGNOU Convocation
Ques 1. How to apply for a convocation certificate in Ignou?
Brand Advertisement
Ans. Candidates can get their actual degree certificate through convocation. They have to fill out the convocation form first and submit it to their regional centre or IGNOU Maidan Garhi, Delhi. An application form fee of Rs. 600 will also be charged to students.
Ques 2. How to apply for convocation in Ignou?
Ans. Go to the  IGNOU official website and enter your 9 to 10-digit enrollment number at the given website of Ignou onlineservices.ignou.ac.in/convocation/.
Ques 3. How will I receive my degree if I don't attend convocation?
Ans. If you don't attend convocation, you will receive your degree certificate by post.
Ques 4. What happens in IGNOU convocation?
Ans.  At the IGNOU convocation, Students get their original certificates from the university. 
Ques 5. Can we get a degree Without registering for convocation?
Ans. No, IGNOU Convocation registration is a must to get a degree certificate.b
Ques 6. To attend IGNOU convocation compulsory?
Ans No the INGOU convocation is not compulsory to receiving a degree.
Ques 7. What is IGNOU Convocation Venue?
Ans. IGNOU Convocation is annually held on its main campus Maidan Garhi, Delhi as well as across all regional centres. 
[webrr-add-review-button]