IGNOU Convocation 2023: Each year, IGNOU organizes its convocation on its main campus in Maidan Garhi, Delhi, and also all of its regional centers. Registration for the 36th Convocation has officially begun for those students who have successfully completed their programs at IGNOU. Convocation will start at 10:30 AM, and a live webcast of the Convocation will be available on the IGNOU Online website.
The 36th Convocation of the IGNOU will take place at both the Main Campus (Maidan Garhi) in New Delhi and the corresponding regional centers all throughout India. Additionally, it will be broadcast for viewing on the official Facebook pages of IGNOU and Gyandarshan.
IGNOU 36th Convocation 2023 Online Registration
As registration for the 36th Convocation of the IGNOU is quite quick, no documents are required. In order to participate in the next convocation, you must register online. For more information, click on the link below. Students should have their 9 or 10-digit enrollment number given at the time of IGNOU admission.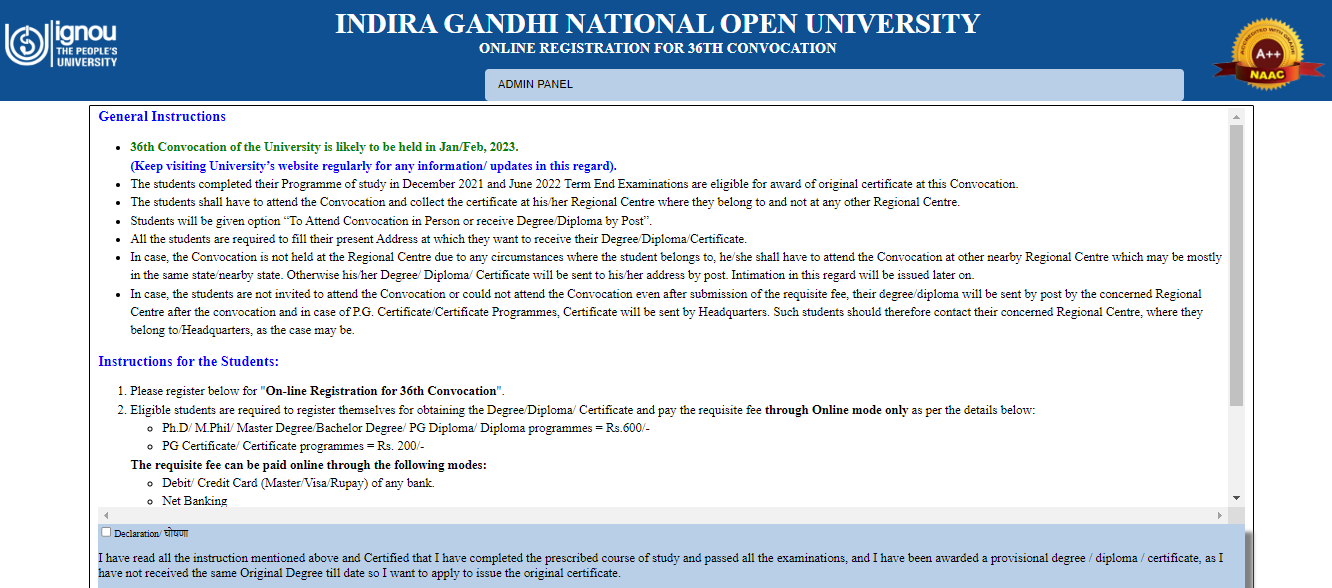 Click for Online Registration of IGNOU 36th Convocation (Open) – Direct Link
Candidates must register online by selecting the "Online Registration" link and pay any applicable fees using one of the available online payment options.
IGNOU Convocation 2023: Details (Venue, Dress Code, Time)
| | |
| --- | --- |
| Events  | Official Dates & Details  |
| Online registration deadline | Date will be announced  |
| Convocation fees for IGNOU | Convocation fee of Rs 600 (per certificate) |
| 36th Convocation date for IGNOU  | Jan/Feb 2023 (Expected) |
| Timing of convocation | 11:00 AM |
| Convocation Venue | Maidan Garhi, New Delhi – 110068 |
| Male candidates' dress code | Indian dresses in white or cream colors |
| Female candidates' dress code | A white or cream-colored salwar kameez, sari, or salwar kurta would be appropriate. |
IGNOU Convocation Fee 2023
IGNOU 36th Convocation fees for Master's, Bachelor's, Ph.D., and diploma degrees will remain at Rs 600 per certificate.
PG Certificate and Certificate program students must additionally apply for IGNOU Convocation and pay Rs 200 per certificate to receive their program certificates.
Earlier, You don't need to register for IGNOU Convocation or pay any fees if you finished a Certificate or Postgraduate Certificate program. IGNOU University will mail your program completion certificate to your address without any procedure.
FAQs related to IGNOU Convocation
Ques 1 How to apply for a convocation certificate in ignou?
Ans Candidates must first obtain the convocation form from their regional center or IGNOU Maidan Gahi, fill it out, and then return it to IGNOU Maidan Garhi, Delhi, with a Rs 600 DD to receive their actual degree certificate.
Ques 2 How to apply for convocation in ignou?
Ans Go to the  IGNOU online service and enter your 9 to 10-digit enrollment number at the given website of ignou onlineservices.ignou.ac.in/convocation/.
Ques 3 How will I receive my degree if I don't attend convocation?
Ans You will receive your degree certificate by post.
Ques 4 What happens in ignou convocation?
Ans  In IGNOU convocation, Students get their original certificates from the university.