IGNOU Admission: The last date of July 2021 online application submission has extended to admission for bachelor and master degree programs. Earlier today, Ignou has officially announced a date extension notification, the new date is 30th November 2021.
Also, Read these articles;
इग्नू ने स्नातक और परास्नातक डिग्री कोर्सों के लिए आवेदन की तिथि फिर बढ़ाई ! अब अभ्यर्थी स्नातक और परास्नातक डिग्री कोर्स के लिए 30 नवंबर 2021 तक आवेदन कर सकते हैं।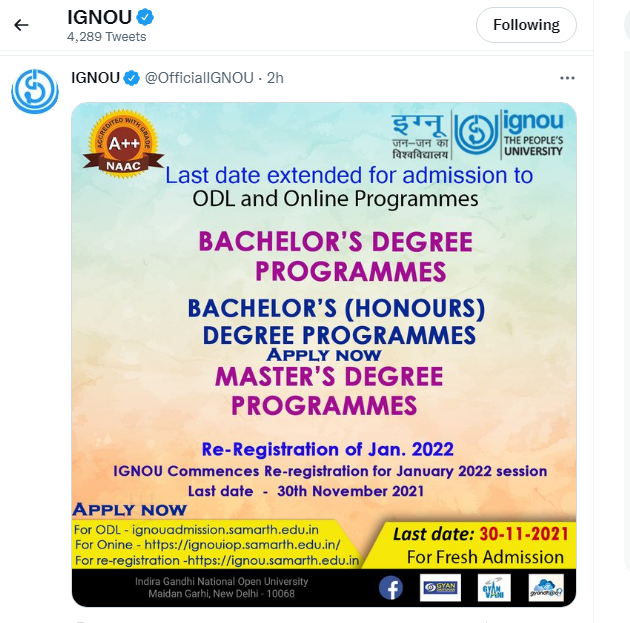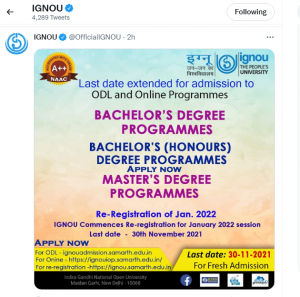 Those who have failed to complete or process their admission during a given period can obtain the seat in their preferred course as the dates have been extended for a week more. Do visit the link to redirect to the July 2021 admission registration portal https://ignouadmission.samarth.edu.in/
Interested candidates may need to register over the July 2021 admission portal for non-semester-based courses only; as the university has already closed the window for semester-based entry, no entry will be granted to those who are eyeing to get admission in certificate, diploma, pg diploma as well.