IGNOU BEd Answer Key 2023: The BEd answer key 2023 has released by the IGNOU on 9th February 2023. Those applicants who have any queries can send them to the official email of IGNOU – entrancetest@ignou.ac.in. before Monday evening 14th February 2023 (06:00 pm).To check the IGNOU BEd answer key 2023 PDF download, the candidate can click here.
This Answer key for the BEd entrance exam held on 8th January 2023 by the authority of the university's examination and admission. 
Students must log in with their credentials to check the answer key on the official website.

Steps to download IGNOU BEd Answer Key 2023
Students visit the IGNOU official website to download the answer key for BEd 2023 – @ignou.ac.in
Then in the news and announcements section, candidates can see the link of  IGNOU B.Ed Exam Key 2023, now click and download the answer key.

Now candidates can identify the paper set that was attempted for the IGNOU BEd entrance test.

Now click to download the IGNOU BEd 2023 answer key in PDF format.

At the last candidates can calculate an estimated score based on the answers.
ALSO, READ
Information provided about the 2023 IGNOU BEd Answer Key.
The paper key will contain the correct answers to all the questions asked in the IGNOU BEd entrance examination 2023. The information on the answer key sheet is as follows:
Examination Name

Set Name of Exam 

Paper Number

Question Numbers

Correct Answer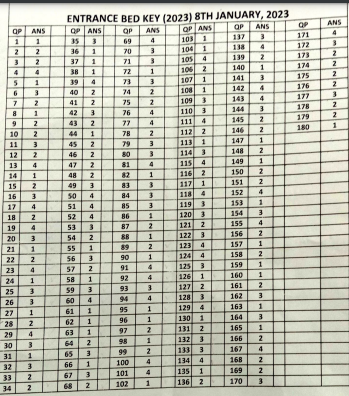 How is the IGNOU B.Ed exam score calculated?
The IGNOU B.Ed Examination marking scheme is simple. Because there is no negative marking, the calculation is very easier. Tabulated below is the scheme for the exam:
IGNOU B.Ed Entrance Test Marking Scheme

Correct Answer

+1

Incorrect Answer

0

Un-attempted Question

0
IGNOU B.Ed Answer Key 2023 Challenge
Applicants have the right to challenge the answer key that has been published by the authority if they have any objections or are dissatisfied with the answer key. The applicant can do this by visiting the official website. To challenge a question, however, a fee must be paid for each question that is being challenged. If the challenge is correct, the total fee will be returned to the customer.
Note: For each question that needs to be challenged, the candidate has to pay a fee of Rs 1000 (per question).
What next IGNOU BEd Answer Key 2023?
As soon as IGNOU has downloaded and verified the answers, the results for the examination will be released on the IGNOU website, ignou.ac.in, for candidates to access. Candidates who gave a mobile number and email address while registering will receive notifications of the same on those accounts.
You can get the results after providing the required information. The results are made available on a scorecard. IGNOU will thereafter publish a list of candidates who have been selected based on the outcomes of the entrance exam.